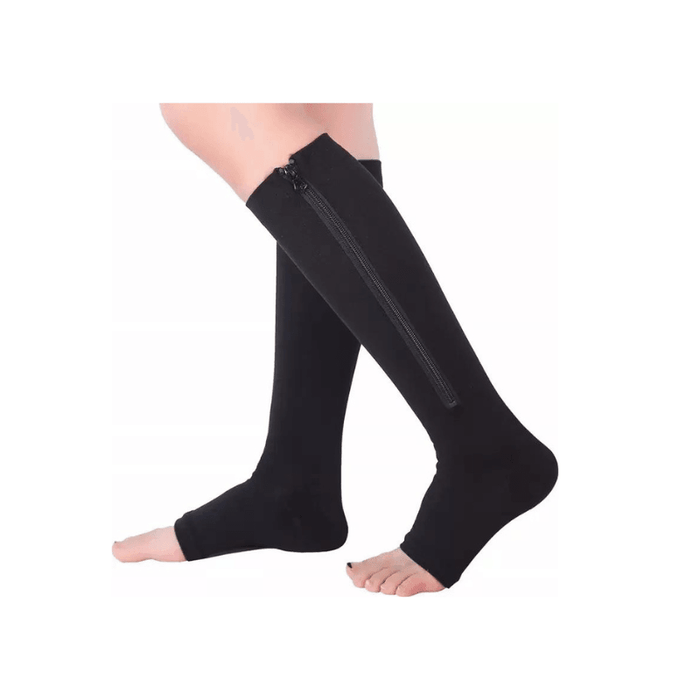 Women's Open Toe Plantar Pain Relief Compression Socks
In Stock
Your information is 100% secured

Women's Open Toe Plantar Pain Relief Compression Socks are especially for those who have any kind of disease related to their legs as they will keep your feet relaxed by creating accurate pressure and giving massage to them. It has an open toe and zip making it breathable and comfortable.

✨ ZIPPER COMPRESSION SOCKS FOR MEN AND WOMEN - 15-20 mmHg gradient zipper compression socks can compress the ankle to the greatest extent and gradually reduce the pressure on the lower leg. This decrease in pressure can reduce the venous return of the lower extremities and effectively relieve or improve the pressure. The segmented pressure promotes a more comprehensive flow of our blood cells.
✨ HIGH QUALITY WORTH YOUR EVERY PENNY - To prevent deep vein thrombosis in patients with long-term bed rest . For standing for a long time, sitting and heavy physical work, the compression socks can reduce the discomfort of the lower limbs and prevent varicose veins of the lower limbs. For people who love beauty. Medical elastic stockings also have the function of shaping beautiful legs, to prevent the fat on the legs from being pulled down, and even have the effect of thin legs.
✨ DESIGN & COMFORT - 75% nylon, 25% spandex use High-quality nylon and spandex fabrics, comfortable and breathable fabrics, durable performance, to provide strong durability. And each pair of socks includes a strong high-quality zipper to ensure a snug fit. Will help promote air circulation to improve performance


✨ MULTI PURPOSE - Standing for a long time: teachers, traffic police, shopping guides, beauticians, doctors, nurses, etc. People who sit for a long time: IT staff, white-collar workers, civil servants and other office workers stand or sit for a long time: Due to muscle fatigue and gravity, the blood flowing to the lower leg is not smooth, and the increase in blood viscosity leads to lower limb vein disease.
Highlights: 
 Quick and convenient to wear
 The built-in zipper & adjustable Velcro make it super easy to put on
 Perfect compression sleeve for travel, sports, work, or home
 Open-toe design
 Pinch-resistant zipper
Size Guide:
S/M:

Ankle Circumference: 8½-10"
Calf Circumference: Up to 16½"  
Length of stocking laying flat:  19 3/4"
L/XL:

Ankle Cir: 11½-13"
Calf Cir: Up to 19"  
Length of stocking laying flat: 21"