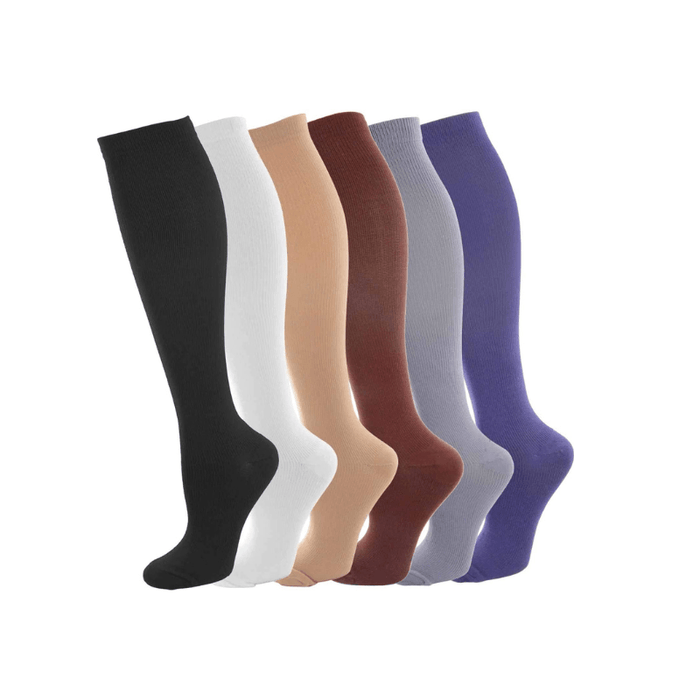 Sports Compression Socks Knee High 7 Pack
In Stock
Your information is 100% secured

Enhance your performance and reduce discomfort with our Sports Compression Socks Knee High 7 Pack for men. Designed to promote blood circulation, relieve sore muscles, and reduce swelling, these socks are the perfect workout and running gear. Experience the benefits of reduced lactic acid build-up and decreased leg exhaustion.
Features:
Style and Confidence on Your Legs: Our durable compression socks are designed to last without compromising quality or comfort. With double-stitched fabric, your legs will thank you for the immediate comfort and remarkable design. Perfect for work, cycling, skiing, or any activity. Enjoy the excellent vascular toning benefits and the confidence that comes with stylish compression socks.
Push Yourself That Extra Mile: Gear up your legs for work, play, and everything in between! Our socks provide compression and support precisely located on the heel, foot, and calves while allowing your toe joints to move freely. Experience instant comfort and support with moisture-wicking properties that rapidly air dry in a few hours.
Take Your Game to the Next Level: Our compression socks are constructed with comfortable material and careful craftsmanship. They have no irritating stitches and feature stay-put cuffs for a soothing feeling. Ideal for extreme races, long runs, crossfit, mud runs, water activities, and more. Feel the difference and perform at your best.
Grab Control of Your Wellbeing in Style: Our compression socks are not only functional but also fashionable. Made with durable and washable Lycra Fabric, they offer a variety of colors to choose from. Experience the amazing comfort during long flights, walks, or workouts. The 20-30 mmHg compression sleeves provide shock absorption and help reduce fatigue and swelling in your lower legs.
Get Ready to Become a Raving Fan: We take pride in our product and your satisfaction. You are making an intelligent decision by choosing our company. We are committed to providing you with the finest product and service. If you're not completely satisfied, we offer a money-back guarantee.
Details:
Manufactured with anti-microbial material
Fabric: Nylon and Spandex blend
Size Options:

Small/Medium: Women's shoe sizes 6.5–10, Men's shoe sizes 6.5–9
Large/XL: Women's shoe sizes 10–13, Men's shoe sizes 9–12
XXL: Men's shoe sizes above 12

Suitable for: Anti-fatigue, Diabetes, Varicose Veins, Running Sports
Upgrade your performance and comfort with our Sports Compression Socks Knee High 7 Pack. Maximize your potential, reduce muscle fatigue, and enjoy the benefits of improved blood circulation. Order now and experience the difference!