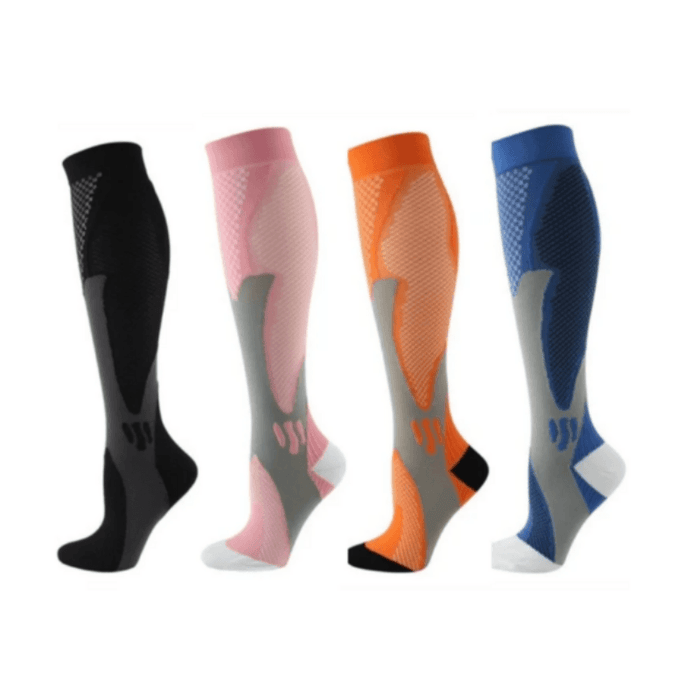 Running & Sports Compression Socks 20-30 Mmhg Sports Stockings - Pack of 4
In Stock
Your information is 100% secured

Reduce discomfort and swelling during your workouts with these Running Compression Stockings.

Designed for men, these compression socks enhance blood circulation, relieve sore muscles, and help reduce lactic acid build-up, allowing you to push yourself further.

Experience style, comfort, and performance with this pack of 4 compression socks.
FEATURES:

Style and Confidence: Durable compression socks with double-stitched fabric for lasting quality and comfort. Perfect for work, cycling, skiing, and more.


Boost Blood Circulation: Enhances blood circulation, delivering oxygen to your muscles for improved performance and reduced exhaustion.


Day and Night Support: Ideal for daily use, these socks provide compression and support on the heel, foot, and calves, with moisture-wicking properties for quick drying.


Comfortable Construction: Carefully designed with no irritating stitches, stay-put cuffs, and soothing feeling at the bottom and sides of the foot. Breathable and perfect for extreme races and long runs.


Fashionable and Durable: Excellent compression hose with a variety of colors available. Made with quality Lycra fabric that's built to last and can be washed.


Wellbeing in Style: Durable 20-30 mmHg compression sleeves that offer shock absorption and reduce fatigue and swelling. Suitable for travel, walks, and daily routines.


Anti-Microbial Material: Manufactured with anti-microbial material to maintain freshness and hygiene.


Nylon and Spandex Fabric: The socks are made of a comfortable and durable blend of nylon and spandex.


Multiple Size Options: Choose from Small/Medium, Large/XL, or XXL sizes to find the perfect fit for your shoe size.
Get ready to take your performance and wellbeing to the next level with these Running & Sports Compression Socks.

Order now and experience the benefits of compression technology for your active lifestyle!