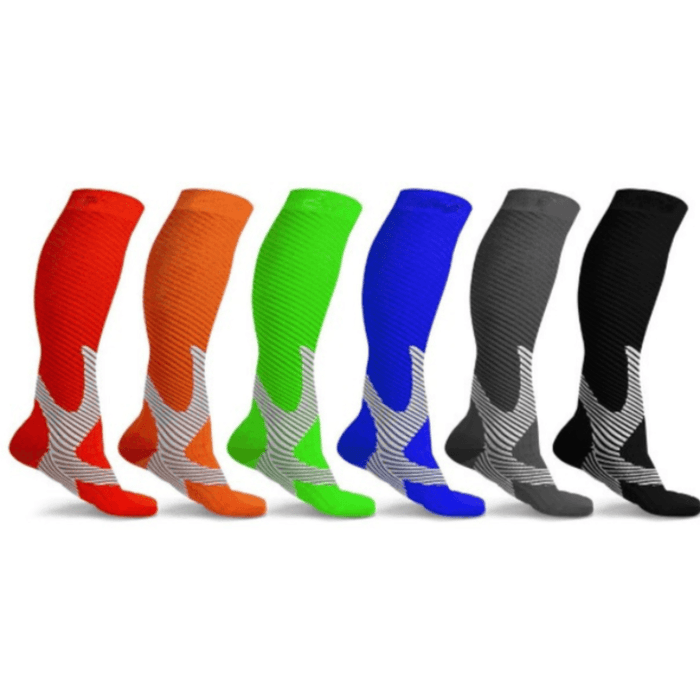 Recovery and Performance Compression Socks 6 Pairs
In Stock
Your information is 100% secured

Introducing our Recovery and Performance Compression Socks 6 Pairs, the ultimate lightweight and comfortable socks designed for both men and women. Made with a blend of polyester and nylon, these socks feature a thick, sweat-absorbent, and non-slip cloth for maximum performance. Ideal for everyday use and various activities, these socks keep your feet relaxed and odorless. With 6 pairs in a set, they are perfect for daily wear, offering basic colors and prints that are easy to wash.
Features:
Moderate strength 15-20 mmHg compression support
Knee-length unisex style anatomically designed to enhance performance for athletes and active wear enthusiasts
Advanced hi-filament material that wicks moisture and maximizes air flow
Compression technology that increases blood flow and performance during workouts and physical conditioning
Post-training therapeutic graduated compression that reduces muscle fatigue, leg cramps, and swelling to promote recovery, healing, and refreshed legs and feet
Seamless toe to reduce friction
Extra-wide self-adjusting top band for resistance against slipping
V-guard shin protection to dampen vibrations and prevent shin splints
Unified calf cradle ankle support to protect the Achilles Tendon
Arch band for added stability, comfort, and control
Medical-grade compressive pressure to improve blood circulation and oxygen flow while preventing injury
Recommended for running, marathon, triathlon, cross fit, basketball, travel, cycling, workout, tennis, hockey, hiking, ironman, football, and gym wear
Additional Features:
High-Grade Super Soft Comfortable Cotton material
Blend of 80% Cotton and 10% Polyester
Machine washable for easy care
Small-Medium size fits women's shoe sizes 6-9 and men's shoe sizes 5-9
Large-XL size fits women's shoe sizes 10-13 and men's shoe sizes 10-12
Experience the ultimate comfort and performance with our Recovery and Performance Compression Socks 6 Pairs. Boost your athletic performance, promote recovery, and protect your legs and feet. Order yours today and feel the difference!