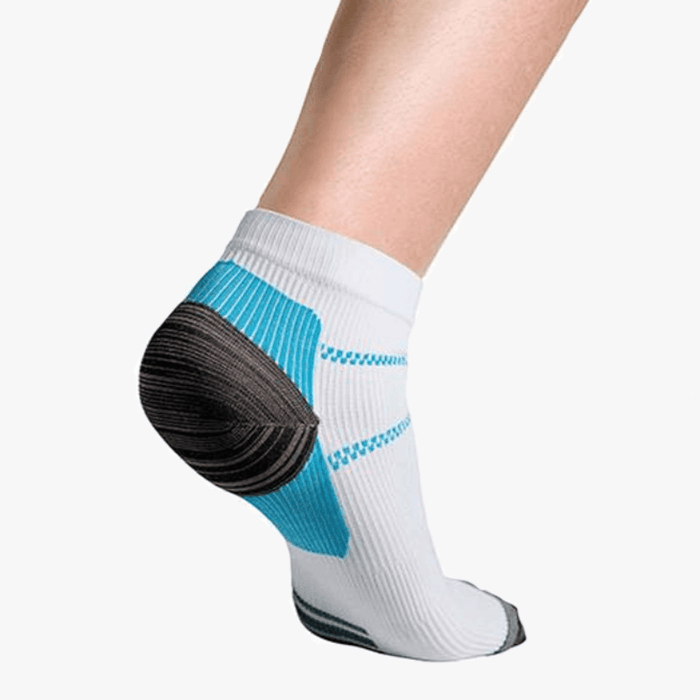 Pain Relief Compression Socks for Plantar Fasciitis
In Stock
Your information is 100% secured

Are your foot problems affecting the quality of your daily life?
We have the perfect solution for you - The Ultimate Compression Socks
FEATURES :
NEW DESIGNED COMPRESSION SOCKS - Feel the immediate Comfort and remarkable design of your new Low Cut Running Compression Socks. They're easier and more convenient than knee high compression socks without compromising quality or Comfort. Premium Quality stitching for Running, Working or Cycling, Easy to get on even though they are compression socks!
RELIEVE YOUR PAIN - Plantar compression technology (8-15mmHg) provides the ideal compression to improve blood flow, move faster, react quicker and use less energy. Circulation support to fight fatigue. Designed for everyday use and boost your performance for any sport activity, Yoga, Gym, Cycling, Running, Walking, Standing, Travel, or just sitting on the couch.
ARCH SUPPORT - Targeted compression zones provide varying levels of support from moderate to extra firm. These are designed to promote blood circulation and oxygen flow and prevent cramping, fatigue, swelling. Relief from pain due to plantar fasciitis and foot injuries, Assistance with recovery after exercise.
COMFORTABLE TO WEAR - Durable with a fashionable look & various colors available. Unisex and two size options ensure you receive the focused support and muscle fatigue relief that you need. Form fitting, lightweight, and breathable fabric maintain foot stability.

HIGHLIGHTS:
For Women Men - 8-15 mmHg Best for Athletic, Support, Flight Travel, Nurses, Hiking
Variable Compression Technology that is reinforced in key zones to target
Plantar fasciitis, heel pain, heel spurs, and arch pain
Extra cushioning on the footpad for added comfort
Reinforced banding in the mid-sock provides extra arch support and helps relieve arch pain
Targeted Achilles and Plantar-Calcaneal Compression Zones help relieve heel pain
Silver microbial fibers in the toe and heel have anti-bacterial and anti-odor properties
Made of a soft, comfortable, moisture-wicking & breathable fabric
Designed for everyday and activewear.
S/M Women's Shoe size 6 - 9.5 Men's Shoe Size 5 - 9.5
L/XL Women's Shoe Size 10 -13.5 Men's Shoe Size 10 -12.5
Machine wash in cold water; delicate tumble dry