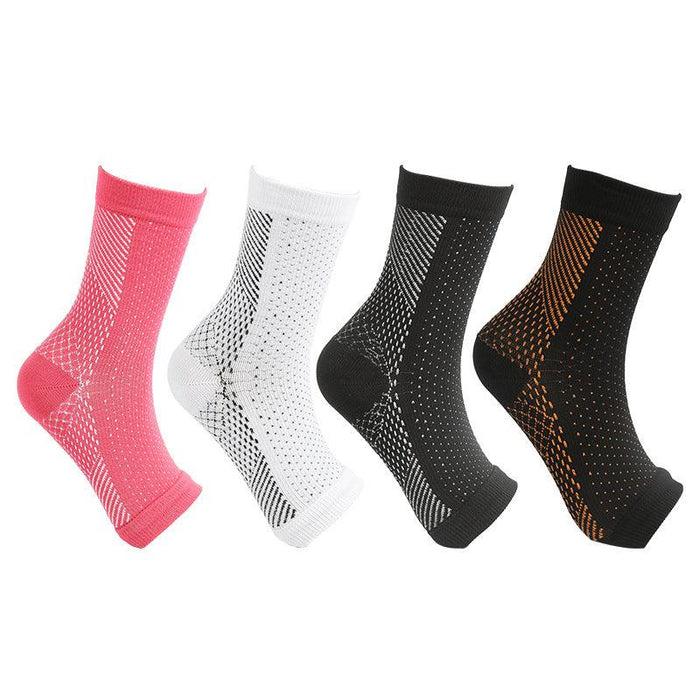 Open toe Ankle Support Elastic Compression Socks - 4 Pairs
In Stock
Your information is 100% secured

Cycling Running Sports Ankle Support Elastic Compression Socks - 4 Pairs that feature a cushioned segment in the heel and toe area. The design provides enough space for breathability and ventilation making these socks perfect for every season. The socks help reduce foot fatigue and deliver perfect support, comfort, and flexibility.
Features:
RELIEVES FOOT PAIN - Instant Foot, Arch and Ankle Pain Relief From Plantar Fasciitis, Neuropathy, Arthritis, Bursitis, Sprains, Muscle Fatigue, Stress Fractures and More! Our Compression Socks Will Make You Feel More Confident in Staying on Your Feet and Avoiding Muscle Cramps and Pain While You Work, Travel, or Play! Whether You're a Nurse, Runner, Pregnant, or Simply Have Occasional Leg Pain, Our Sleeve Is All You Need.


PREMIUM GRADE COMPRESSION - Not All Compression Socks Are the Same; Most Don't Fit Properly and Don't Work Well. With Our Plantar Fasciitis Socks, You Will Be Assured to Receive a Comfortable Fit With a True Graduated  Can Help Alleviate Foot Pain and Swelling While Enhancing Your Performance.


PROVEN TO WORK - Feel the Difference Instantly! Whether You're an Elite Athlete, or an Active Grandparent, Our Compression Socks will Support Your Feet 24/7. This Workout-friendly Gift Will Help You Lose Weight and Get in Shape and Is Ideal for Walking, Running, Dancing, or Standing. It Makes the Perfect Stocking Stuffer and Gift for Your Loved Ones This Holiday Season.


Details:
Manufactured with anti-microbial material
The fabric is a mixture of nylon and spandex
Small/Medium- Women's shoe sizes 6.5–10, Men's shoe sizes 6.5–9
Large/ XL- Women's shoe sizes 10–13, Men's shoe sizes 9–12